Why There Are Words – Los Angeles presents A Punk Rock Extravaganza, October 14, 2018 (Sunday) 6:30pm, at KaffeBaren, 1000 South Olive St. Los Angeles, CA 90015 (at Olympic Blvd.) Join host and emcee, Patrick O'Neil and co-host Ashley Perez for an unforgettable evening when the following amazing writers will read from their works.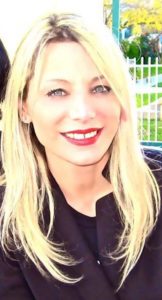 Iris Berry is a native Angelino and one of the true and original progenitors of the L.A. punk scene, who has spent her lifetime in the City of Angels producing over three decades worth of prose, poetry, and spoken word. She is an author, editor, and publisher for her imprint Punk Hostage Press that she co-founded with her former partner, A. Razor. She is an L.A. Pop culture and punk rock historian, actress, and musician. She is the author of the book of short stories, "The Daughters of Bastards," and her writing is widely anthologized. She has appeared in numerous films, TV commercials, documentaries, iconic rock videos, and co-produced with Margaret Cho The Sensuous Woman, a comedy and burlesque variety show series, all proceeds for charity. In the 1980s, she was a singer for the punk band the Lame Flames. Later she co-founded The Ringling Sisters, who recorded with legendary producer Lou Adler (A&M Records). She also sang and wrote songs and recorded with the Dickies, the Flesh Eaters, and Pink Sabbath. In March of 2009, she received her second award for certificate of merit and achievement from the city of Los Angeles for her contribution as a Los Angeles writer, and for her extensive charity work. She served four years on the Board of Directors for Beyond Baroque Literary/Arts Center.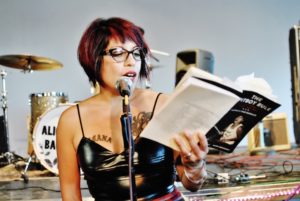 Michelle Cruz Gonzales, drummer and lyricist of the all-woman punk band, Spitboy (1990-1995), featured in Green Day's Turn It Around: Story of East Bay Punk, is the author of The Spitboy Rule: Tales of a Xicana in a Female Punk Band. Currently, she is at work on a satirical novel about forced intermarriage between whites and Mexicans for the purpose of creating a race of beautiful, intelligent, hardworking people. She teaches English and creative writing at Las Positas College and lives with her husband, son, and their three Mexican dogs in Oakland, California. She tweets from @XicanaBrava.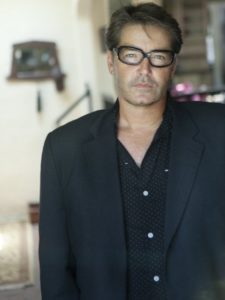 Jack Grisham is the author of An American Demon, A Principle of Recovery, Code Blue: A Love Story, Untamed, and the children's book I Wish There Were Monsters, which he also illustrated. He is the lead vocalist for the seminal punk band T.S.O.L., as well as Vicious Circle, The Joykiller, Tender Fury, Cathedral of Tears, and Manic Low.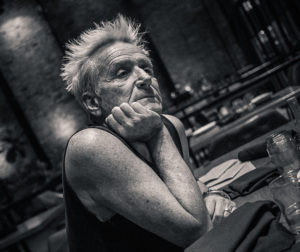 Patrick O'Neil is the author of the memoirs Gun, Needle, Spoon (Dzanc Books) and Hold-up (13e Note Editions). His writing has appeared in numerous publications, including Juxtapoz, Salon.com, The Fix, The Nervous Breakdown, After Party Magazine, and Razorcake. He is a contributing editor for Sensitive Skin Magazine, a Pushcart nominee, and a two-time nominee for Best Of The Net. He holds an MFA from Antioch University Los Angeles, and currently lives in the MacArthur Park/West Lake district, with his wife Jennifer, and two rather large Maine Coons.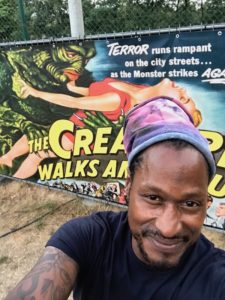 D. H. Peligro, the author of Dreadnaught: King of Afropunk (Rare Bird Books, A Barnacle Book), is best known for being the drummer for the legendary Dead Kennedys. He's the front man for his own band Peligro, and has played in Red Hot Chili Peppers, The Hellations, Jungle Studs, Nailbomb, The Feederz, Lock-Up, The Two Free Stooges, and SSI. Peligro is current acting in several film projects.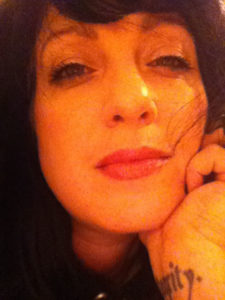 Anna Joy Springer is an ex-punk Buddhist femme in Los Angeles. She does literature, visual art, and performance. Her two books are The Birdwisher and The Vicious Red Relic, Love. She works as an associate professor of literature at UC San Diego, where she helps run the MFA Program in Writing and teaches literary arts and image-text courses with an emphasis on experimentation, contemplation, and social justice. She sang in Blatz, The Gr'ups, and Cypher in the Snow in the CA Bay Area in the gay 90's. Her writing is lyrical and weird, sometimes with pictures.
Celebrating its second year of providing quality live readings, Why There Are Words-Los Angeles takes place bimonthly on second Sundays at KaffeBaren. Authors Patrick O'Neil and Ashley Perez coordinate the LA branch of Why There Are Words, an integral program of WTAW Press.