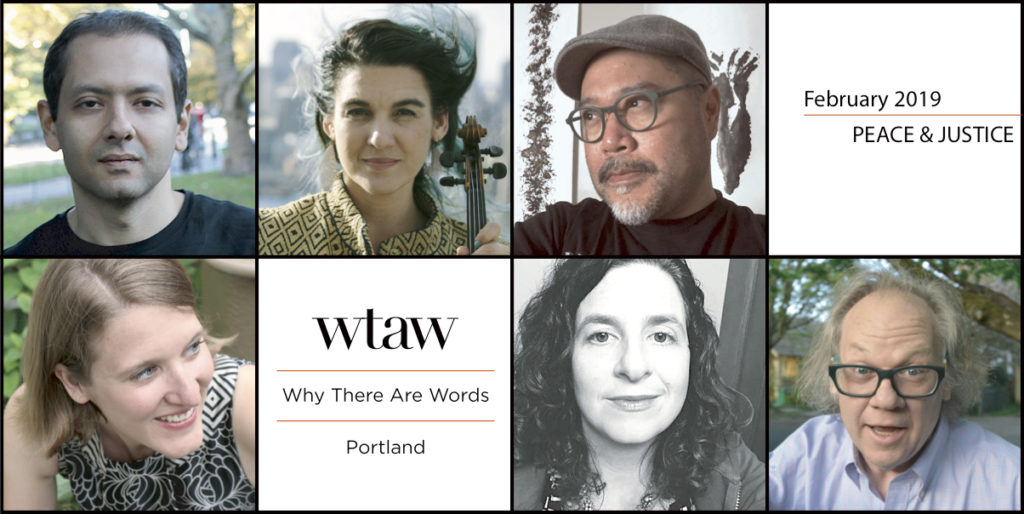 Why There Are Words – Portland returns for a second year of outstanding live author readings February 17, 2019 (Sunday) at 4pm, at Leach Botanical Garden in SE Portland. The following six acclaimed authors will read on the theme of Peace and Justice. Doors open at 4pm; readings begin at 4:15. $10 suggested donation at the door.
Stevan Allred lives in Portland, Oregon, halfway between Hav and the Isle of the Dead, which is to say he spends as much time burrowed into his imagination as he possibly can. The Alehouse at the End of the World, his debut novel, was published by Forest Avenue Press in November 2018. He is the author of A Simplified Map of the Real World: The Renata Stories, and a contributor to City of Weird: 30 Otherworldly Portland Tales. His work has also appeared in Brave on the Page: Oregon Writers on Craft and the Creative Life, Clackamas Literary Review, Bewildering Stories, Mississippi Review, and many other journals and anthologies.
Omar El Akkad is an author and journalist. He has reported from Afghanistan, Guantanamo Bay, and numerous other locations around the world. He is the recipient of a National Newspaper Award for Investigative Journalism and the Goff Penny Award for young journalists. His work has appeared in The Guardian, Le Monde, the Globe and Mail, and many other newspapers and magazines. His debut novel, American War, is an international bestseller that has been translated into thirteen languages and awarded the Pacific Northwest Booksellers' Award, the Oregon Book Award for fiction, and the Kobo Emerging Writer Prize. It was listed as one of the best books of the year by The New York Times, Washington Post, and GQ. He is one of 25 writers featured in the new anthology of speculative fiction, A People's Future of the United States. He lives in the woods just south of Portland, Oregon.
Rachel King's short fiction has appeared in One Story, Flyway, the museum of americana, Lunch Ticket, the Concho River Review, the Farallon Review, and Ashland Creek Press' Among Animals 2 anthology, and has been nominated for a Pushcart Prize and Best of the Net. Her novel People along the Sand was a finalist in Forest Avenue Press' 2018 open reading period, and her poetry chapbook Between Work and Light is available through Dancing Girl Press. She copyedits fiction and nonfiction and is the managing editor at Ruminate Magazine. She lives in her hometown of Portland.
Mary Milstead completed her MFA in Fiction at Portland State University in 2014, where she won the Tom Doulis Graduate Fiction Writing Award in 2013. She's currently at work on a novel that's set in Spain just a few years after the Spanish Civil War, a collection of weird little animal stories, and several new essays. She lives in Portland.
Alicia Jo Rabins is a writer, musician, and Torah teacher. She is the author of Divinity School (APR/Honickman First Book Prize, 2015) and Fruit Geode (Augury Books, 2018). She is the creator and performer of Girls in Trouble, an indie-folk song cycle about women in Torah, and A Kaddish for Bernie Madoff, a one-woman chamber-rock opera about finance and mysticism, currently being made into a feature film. An internationally touring violinist and singer, she lives in Portland with her husband and two children. She loves plants, ancient texts, and coffee, and is currently at work on a spiritual memoir.
Sam Roxas-Chua 姚 is a poet and multidisciplinary artist from Eugene, Oregon. He is the author of Saying Your Name Three Times Underwater (Lithic Press), Echolalia in Script: A Collection of Asemic Writing (Orison Books), and the chapbook Fawn Language (Tebot Bach). His poems and artwork have appeared in various journals including Narrative, december magazine, and Cream City Review. In 2014, his poetry sequence Diary of Collected Summers was awarded the Missouri Review's Miller Audio Prize. His asemic work has been exhibited at selected galleries including the Minnesota Center for Book Arts. He also directs The Requatorist Studio, an organization dedicated to writing mentorship, publishing, and audio recording services.
A program of WTAW Press, a 501(c)3 nonprofit, WTAW PDX is hosted by curators Lisa Gluskin Stonestreet and Virginia Bellis Brandabur. More information here.