Join Why There Are Words – Sausalito on January 10, 2019, at Studio 333 in Sausalito to celebrate our 9th anniversary of bringing premiere readings to the Bay Area. Doors open at 7pm and readings begin at 7:15. $10 at the door. Cash bar.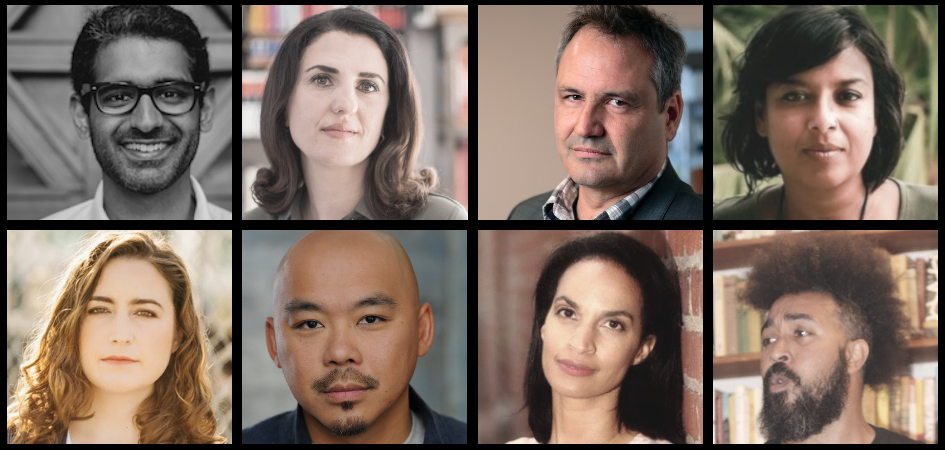 Nishant Batsha's fiction and essays have been published in TriQuarterly, The Offing,and The Caribbean Review of Books, among others. He is currently revising his debut novel trilogy: Washed Ashore, All That Floats, and The Tideline.
Jack Boulware is a San Francisco Library Laureate, journalist, and author of three books,including the Bay Area punk oral history Gimme Something Better (Penguin Books, 2009). He is a co-founder and Executive Director of San Francisco's Litquake literary festival.
Lydia Kiesling is the author of The Golden State (MCD, September 2018), which was longlisted for the Center For Fiction's First Novel Prize, and a 2018 National Book Foundation "5 under 35" honoree. She is the editor of The Millions, and her writing has appeared at outlets including The New York Times Magazine, The New Yorker online, The Guardian, and Slate. She lives in San Francisco with her family.
Dickson Lam is the author of Paper Sons: A Memoir (Autumn House Press, March 2018). His work has appeared in StoryQuarterly, The Kenyon Review Online, Hyphen Magazine, The Normal School, PANK, The Good Men Project, and The Rumpus. He holds MFA degrees in creative writing from the University of Houston and Rutgers-Newark. He is an assistant professor of English at Contra Costa College and lives in Oakland.
Huda Al-Marashi is the Iraqi-American author of First Comes Marriage: My Not-So-Typical American Love Story (Prometheus Books, November 2018). Excerpts from this memoir have also been anthologized in Love Inshallah: The Secret Love Lives of Muslim American Women (Soft Skull Press, 2012); Becoming: What Makes a Woman (University of Nebraska Gender Programs, 2012); and Beyond Belief: The Secret Lives of Women and Extreme Religion (Seal Press, 2013). Her other writing has appeared in the Washington Post, the LA Times, al Jazeera, VIDA Review, Refinery 29, the Rumpus, the Offing, and elsewhere. She is the recipient of a Cuyahoga County Creative Workforce Fellowship and an Aspen Summer Words Emerging Writer Fellowship. She currently resides in California with her husband and three children.
Caille Millner is the author of a memoir, The Golden Road: Notes on my Gentrification (Penguin Press, 2008). Her fiction has been published in Zyzzyva, Joyland, and Best American Short Stories. Her essays have been published in Longreads and the Paris Review Daily, and listed in Best American Essays.She is also a cultural columnist at the San Francisco Chronicle.
Nayomi Munaweera's debut novel, Island of a Thousand Mirrors (St. Martin's Press, 2014), a book about the 26-year long Sri Lankan civil war, won the Commonwealth Regional Prize for the Asian Region. It also won a Godage Prize and was the Target Book Club selection for January 2016. Her second novel, What Lies Between Us (St. Martin's Press, 2016), a book about a mother who commits an unspeakable crime, explores the ongoing legacies of intergenerational trauma and secrecy, and won the Sri Lankan National Book Award and the Godage Award for Best English Novel. She is also widely anthologized in collections such as Oakland Noir (Akashic Books, 2017); Good Girls Marry Doctors: South Asian American Daughters on Obedience and Rebellion (Aunt Lute Books,2016); Many Roads Through Paradise (Penguin Books Limited, 2014);and others. She has work forthcoming in the Anthology, What I Don't Talk About With My Mother, (Simon and Schuster, 2019).
Jeremy Michael Vasquez is an artist, author, activist, and educator in San Francisco. He uses his expression of art to facilitate healing workshops for youth in the Bay Area. As a spoken word and musical artist, he has performed at many community events and correctional facilities. Serving as a keynote speaker at conferences, colleges and universities, and public high schools nationwide, Jeremy has used his pain as a platform. With his latest published book, Unshackled (CreateSpace Independent Publishing Platform, 2017), he has been called to free people through storytelling and vulnerability.
Why There Are Words (#WTAW) is an award-winning national reading series founded in Sausalito in 2010 by Peg Alford Pursell, now expanded to six additional major cities in the U.S., with more planned in the future. The series draws a full house of Bay Area residents every second Thursday to Studio 333, located at 333 Caledonia Street, Sausalito, CA 94965. The series is a program of the 501(c)3 non-profit WTAW Press, publisher of award-winning exceptional literary books.